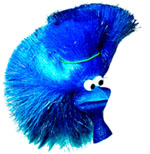 .events
If you are looking for combat...

The best place to check is: the Builders data base.
They keep an up to date list of events and the robots that are participating.


May 21-22, 2011 Saturday & Sunday
Maker Faire
San Mateo, California

From their web site this is a "family-friendly event that celebrates arts, crafts, engineering, science projects and the Do-It-Yourself (DIY) mindset. It's for creative, resourceful folks who like to tinker and love to make things." Brought to you by the folks at Make Magazine. If you are at all interested in making stuff, this is a MUST SEE! And if you don't like to go to California, check out the ones in Detroit and New York.


April 15-17, 2011 Friday to Sunday
RoboGames
San Francisco, California

Billed as the worlds largest robot competition. Combat, androids, sumo... Just about anything robotic. And even a chance to meet some famous "names" from the likes of Mythbusters.


November 20-21, 2010 Saturday & Sunday
Canadian National Robot Games (CNRG)
770 Don Mills Road
Toronto, ON

Used to be called Eastern Canada Robot Games (ECRG). Attracts a wide viriety of enthusiastic amateurs who compete in minisumo, art, firefighting and other events. Held at the Ontario Science Center so you need to pay to get in but you get a whole lot more for your money.